Most thermostats have a note right on them which color wire goes to which terminal. If you don't have this, 4-wire color codes go as following:
| | | |
| --- | --- | --- |
| Terminal | Wire | Purpose |
| G | Green | Fan |
| W | White | Heating |
| Y | Yellow | Cooling |
| R | Red | Power (24-volt hot wire) |
Green wire – goes to Green Terminal (G)
White wire – goes to White Terminal (Y)
Yellow wire – goes to the Yellow Terminal (Y)
Red wire – goes to Red Terminal (R)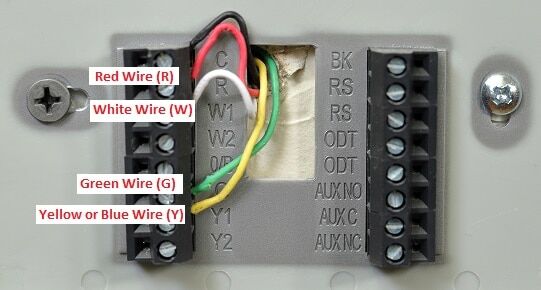 If you have an older thermostat wiring, it will have a blue wire instead of a yellow. Attach the blue wire to:
Yellow terminal (Y)
If you happen to have a bunch of wires hiding behind the wall and have both yellow and blue (common in newer thermostat wiring), the blue one is most likely to be a Common (C) 24VAC wire.
Even though in our example Common Wire (C) is NOT included, here is a great visual breakdown of thermostat wires (with schematics):
Green terminal and wire (G)
If you just want air to be moving around your house without being heating or cooled down, G-wire (or green wire) is responsible for that.
White terminal and wire (W)
Once your thermostat will go into the Heating Mode, 24-volt power will be sent back to the control board and the furnace will start working.
Yellow terminal and wire (Y)
In older wiring setups, this wire could be a blue color. Yellow wire activates your outside air conditioning unit and a fan at the control panel (or board).
Red wire to Terminal (R)
The red wire is a 24-volt hot wire that triggers either the heating or cooling mode of your thermostat (fan as well). It starts from the control board (which is equipped with a transformer that changes the voltage to 24-volts) and goes all the way to the thermostat, where appropriate wires will be triggered upon your selection of a setting.
Here is a video on how to connect a thermostat with 4 wires:

**

Very Important!
Before starting to work on your thermostat wiring, make sure you turned all the power OFF. If you are not sure what you are doing, consult a professional.

---
Attention! This article is for informational purposes ONLY and is NOT a replacement for a professional advice! You will need to visit school's website for details and updates, as well as consult your local HVAC specialist for appropriate solution to your problem.
DISCLAIMER: AS AN AMAZON ASSOCIATE I EARN FROM QUALIFYING PURCHASES. THIS POST CONTAINS AFFILIATE LINKS THAT WILL REWARD ME MONETARILY OR OTHERWISE WHEN YOU USE THEM TO MAKE QUALIFYING PURCHASES. FOR MORE INFORMATION, PLEASE READ MY EARNINGS DISCLAIMER.